"Dear Mr/Ms… We have received your job application. However, we regret to inform you…."
"Sorry, but we don't think that you are a suitable candidate for us…."
"Unfortunately…."
Those words really do kick you hard in your job seeking gut.
For a majority of people, job seeking often involves a number of rejections. You send in your resume that you spent hours perfecting and get no reply. You go to an interview with high hopes and confidence but you don't get a callback. What's worse is when you mess up big time during the interview and you just know you did not get the job. Well, at least you knew that was your own mistake but hey, it doesn't make it any easier.
Sadly, even anticipating the rejection doesn't necessarily lessen the blow. Rejection will always make you feel bad about yourself no matter how often it happens. So how do you deal with rejection and move on stronger than ever?
Here's how you can redeem your confidence and excel in your future job search:
1. Learn To Let Go
No, no, this does not mean 'give up'. Having a bad experience is common for everyone, which means it is pointless to keep dwelling on it. Know what you did wrong and learn from it so that you do not repeat the same mistakes in the future. That's it. Rejection should not be something you obsess about as it is only a waste of time and will only make you believe that you are worth much less.
For example, as soon as you get rejected for a job, ask yourself why and try to recall how you performed during the interview. Try to identify where you went wrong and think of alternative ways to improve yourself for future opportunities.
2. Getcha Head In The Game
Don't let rejection steer you away from your goals and dreams. Keep in mind that rejections are part of the obstacles you will have to overcome in order to achieve your goals. Just stay focused on your priorities and know that you will have to put in all your energy to get what you want. Nothing comes easy kid.
Someone who has determination towards his/her goal will achieve greatness. If you currently have a goal that you are strongly passionate about, spend a great amount of time and energy trying achieving it. Always be more interested in what you are about to do as compared to what you have already done.
3. Don't Take it to Heart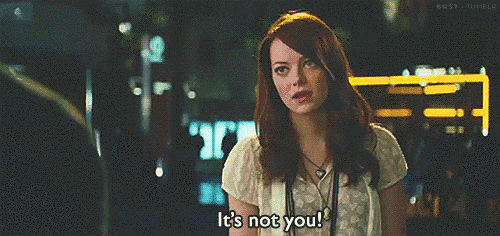 Rejections can affect your judgment and might cause you to take the wrong actions. Try not to take it too personally as an emotional decision is an irrational one most of the time. Logical and rational thinking will help you understand why you did not get the job in the first place. Don't let emotions run amok and start playing the blame game. Accept the outcome and make changes where needed and follow through with it.
Oh yes, and don't start plotting revenge on the ones who rejected you as this will only prove that they were absolutely right about rejecting you. No one wants a sore loser to be part of their team. Keep your feelings in check even if you strongly believe they made the wrong decision.
4. Use Rejection As Motivation
All that negative energy can be flipped over and turned into something positive by working harder to improve yourself. Take this as a lesson learned and that now you are aware of your shortcomings.
This is the moment for you to polish up your skills and be better than you ever were. Think of it as a loaded save file in a video game. With each rejection you get, you learn new and improved ways to tackle certain situations (it could be on your CV, on a phone interview, or even at a physical office interview). You will then be able to position yourself a lot better and win at this game!
There is no better motivation than rejection – many successful people can vouch on that.
Ever heard of a little app called WhatsApp? Of course you have. Well, in 2009, Brian Acton got his job application rejected by Facebook. He then co-founded WhatsApp with Jan Koum in 2014, and managed to sell WhatsApp to Facebook for an outstanding $19 billion. Here's a snapshot of his tweet when he got rejected.
Talk about a great comeback but yeah, that's the right kind of attitude!
#
So, basically, you are not alone when it comes to rejection. Everyone has been there. Frankly, it all comes down to how you handle rejection and pick yourself up from it. It may not be easy but it has to be dealt with in a professional manner in order for you to grow. Always take rejection as an opportunity to better yourself as all great entrepreneurs, thinkers and leaders do so. Don't treat it as a disaster. I know it hurts and it will for a while. But remember! This too will pass.
Happy job hunting!
---
Comments
comments